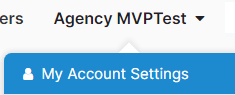 Requirements:
First Name

Last Name

Email Address

*This is your MVP login as well as the email that will be used when emailing the quote comparison or sending workflow emails.

Phone Number

*This is the phone number that MVP staff will use to contact you if needed.
Rater Settings:
These are not required.
Only fill in the ID of the Rater that you use.

If you do not use any of these Raters, leave them empty.
SMTP Settings:

See SMTP Set up for Gmail or SMTP Set up for Office365 to get your SMTP set up in your MVP account.
Custom Email Signature:

To learn how to create a custom email signature for your MVP account, visit > Email Signature
Other Settings:
Free Game:

Set a number of days before the households assigned to you will become Free Game.

If this box is blank, Free Game will not apply.

See Free Game to learn more
Account Settings can be changed at any time. Be sure to click update to save your changes.