Leads can be entered into MVP in three ways – adding a lead manually, through integration or importing a list of leads. To import a list, it has to be a CSV (Comma Separated Values) spreadsheet and you must have the first and last name and the full address. See our required formatting section for more information.
If you would prefer that we import for you you can fill out this form. Please make sure that you have your workflow created and a column for consent to text with "y" entered for each household that you DO have consent to text for PRIOR to filling out the form so we can import correctly.
Check out the video here.
Steps to Import Leads
1. In the top right corner near your name, click the + symbol, and then choose "Import Leads" from the dropdown.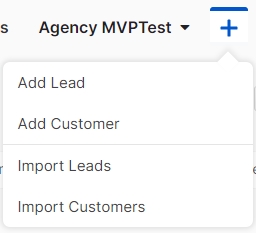 2. Click the Select file button to upload your .CSV (comma separated values) file.
TIP: Download the Official Agency MVP Import Template to format your lead information. This will show you all fields you are able to import. Your file does NOT need to be in the same order nor have the same column names.
3. Import Details – Choose a Lead Source, Tag, User, and whether you want to bulk pipeline the import.

A Lead Source describes where your leads came from, choose the closest option.

Choose or create a Marketing Source to track your ROI.

Example: Cole X-Dates, EverQuote, etc

Assign ownership - it defaults to you but you can choose a staff member instead

Bulk Pipelining - Allows you to mass pipeline your import if you do not wish to work these leads at this time.
TIP: Marketing Sources in Agency MVP are not required but HIGHLY recommended. They will help you get more out of Agency MVP's reports.

4. Map your column headers
First, select the name format (see required formatting for more information)

Note, if you are importing Commercial Info with this file, the Primary Member name is NOT required. This first name will show whatever the business name is, and last name will be "Business".

In the following dropdowns, you'll see a list of your spreadsheet headers (this is the information provided in row 1 of your spreadsheet).

Match the headers from your spreadsheet to each drop down in Agency MVP
TIP: The titles do NOT have to match. Example: In MVP it says "First Name" but your spreadsheet might only say "First" or MVP says "Postal Code" but your spreadsheet might say "Zipcode"
The only required information is the first and last name and full address. The rest of the information is optional.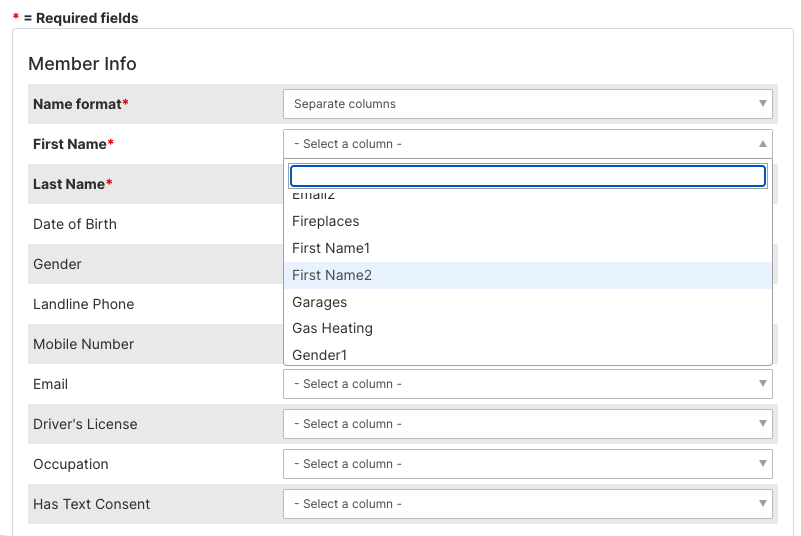 5. Map Additional Fields
Expand the Household Members, Vehicles, & Quote sections and continue mapping the column headers.

THIS STEP IS NOT REQUIRED!
TIP:If you are importing quotes, you are only able to import 1 Home Quote and 1 Auto Quote per household (current carrier information & your quote information can be imported for each quote type).
6. Assign Workflow (optional)
If you would like to assign a workflow to this import, you can do so by choosing a Custom or X-Date workflow that you have created from the dropdown.
Make sure if you are mass-assigning a workflow to an import that you have enough man power to manage all the responses that will be received via text/email from the assigned workflow.
*NOTE: Be sure if you have included a TEXT CONSENT column on your spreadsheet and have filled it in with either YES or NO.


7. Begin Import

When ready, click "Begin Import"

When the import is complete, you'll find the households on the leads call view page of the assigned owner (i.e. the staff member you assigned the list to).




Note: Imports may take up to 24 hours depending on file size. You will find the imported Customers on the Customers call view page of the assigned owner
For your first import, we recommend scheduling a short coaching call so that one of our experienced Success Coaches can walk you through formatting and mapping columns correctly. You may schedule a coaching call here.
Click here to download an import template.
Required Formatting
Name
There are 4 options for Name Format:





First Last

First, Last

Last, First

Separate Columns

Dates
All dates must be formatted into a 2-digit month, 2-digit day, 4-digit year. This includes DOB, Renewal dates, and effective dates.
Tip: Right click on the column letter that the date is listed in, click Format Cells, click Custom, then type in mm/dd/yyyy where it says "General"


Gender
You will need to use either "Unknown", "Male", or "Female".
Phone Number
You cannot have the parentheses in the phone numbers.
Mailing Address
You must split the address amongst 4 columns:

House number and street name

City

State (Abbreviate the state name. For example, "TX")

Zip Code (first five digits only)

Electric Heating/Gas Heating
You will use 0 for false, 1 for true.
Ownership Status
Enter one of the following:

1 for Owned

2 for Financed

3 for Leased
Bodily Injury
You must format it in this way: 100/300 or 250/500
Property Damage
Format as: 50 (for $50,000) or 100 (for $100,000)

You do not need to include the comma and the extra zeros.

Checking the Status of Your Import
Click the plus next to your name at the top right and go to Import History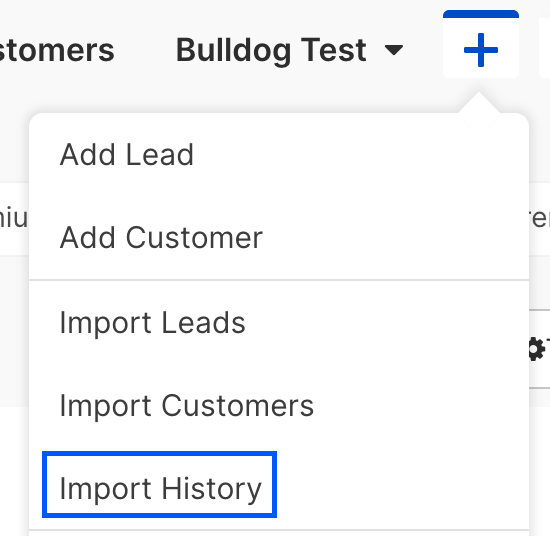 Here you will find the status (processed, partially processed, or failed), name of the file, how many rows were on the spreadsheet to import, how many successfully imported, how many failed to import, the source you entered, the marketing source you entered, who imported the filed, and when it was imported.


Processed - All rows successfully imported
Partially Processed - A portion of the file was successfully imported
Failed - The entire file failed to import
If you have a Partially Processed or Failed import, you are able to see what rows failed and why, by clicking the red number in the "failed" column.


This will show you which rows on the spreadsheet failed to import and why. Then, you can go and fix the rows, if necessary, and attempt to re-import.

Agency MVP Importing Leads
agencymvp.com | 817-576-8785 | support@agencymvp.com