The Home page shows a combination of your individual performance and the entire agency's performance based on the use of Agency MVP. This includes call, quote, and sales activity.
Check out the video here.
Call Activity:
At the top, you will find your individual call activity for the day. This shows you the number of households that you have called so far today, and then breaks it down to show you what type of households you called.

Quote and Sales Activity
Below the call activity, you will see premiums quoted, sold and total quotes. This is a total for the entire agency during the chosen time range. By default, performance is shown for a rolling 7-day period. Specific quote and sales activity can be viewed for the entire agency or on a per User basis, enabling you to see key data quickly to make informed decisions.


(Attn: MASTER AGENCY'S)
If you have at least one "sub-agency" in your organization, under Agency Activity, select which agency's activity you are wanting to look at from the drop down.


To view your Agency's performance for a specific day or date range:
Click the date range bar, select a preset tab (or choose a custom date range), and click the Apply button.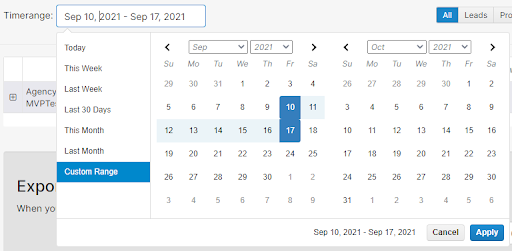 To switch between Quote, Sales, and Call Activity:
Click the Quote, Sales, or Call Activity button near the time range button.

To switch between Leads, Prospects & Cross Sells:

Click Leads, Prospects, Cross Sells or All to the left of the time range button.