Texting templates are pre-written messages that can be added to the outgoing text message box by the click of a button. If you send the same message to multiple different households, we recommend using Texting Templates.
Click the green Send Message button from either the call view page or the details page.

Note: If the Send Message is not clickable, that means you have not yet checked the "Has Consent" box for this phone number.
To open your Text Templates, click the paper icon in the text message modal box.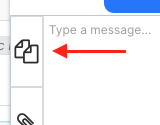 In the pop-up modal, click the blue Select button to select a Template to pre-fill the message box.
Once you have selected your template, the message box should now have the template entered. When you are ready to send the message, simply press enter on your keyboard.
LEARN HOW TO CREATE A NEW TEXT TEMPLATE HERE