You can mass assign workflows in MVP on any of your call view pages by completing a few simple steps.
You can check out the video here.
To start, click "Update Multiple households" for more options to appear.
Once this appears, you'll find check boxes next to each household. You can select the households you would like to take action on, or you can click "Select All Households"
Next, click Update Workflows

From there you can either click "Assign Workflow" or "Remove Workflow"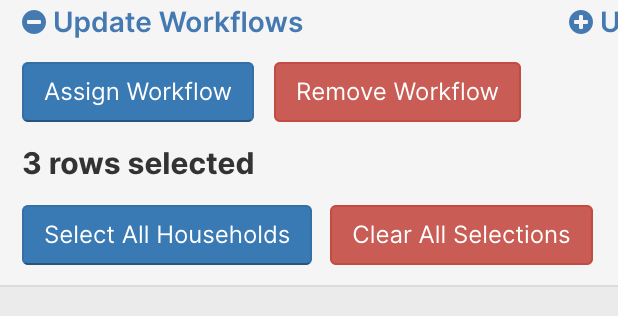 Assign Workflow

Click the "Assign Workflow Button"
Select desired workflow from the drop down
Answer the Text consent Question
(Note: Here you will also see an option to Keep Households Selected. If you are wanting to also bulk pipeline the households you have added a workflow to, you will want to select this box.)
Click Apply
Remove Workflow

Select the households you would like to remove the workflow from
Click "Remove Workflow"
Confirm the action.

Note: you can still assign workflows while using a variety of filters on the call view page.
Example: You can filter to find all the households NOT currently on a workflow and then mass assign a workflow to those households.